De vez en cuando me gusta experimentar con el maquillaje, siempre y cuando me vea capaz para llevar el look acabo sin terminar pareciendo Marge cuando Homer inventó su escopeta de maquillaje.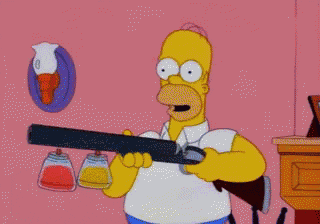 Dicho esto, una de las tendencias que siempre me ha gustado es la de 'glossy eyes' o efecto mojado en los párpados. Por supuesto, para nada soy una profesional del maquillaje, solamente explicaré cómo consigo yo este efecto y lo que me funciona. Si alguien sabe una técnica mejor, ¡el comentario es más que bienvenido!
Hay muchísimas maneras de recrear este maquillaje. Se puede llevar tanto de una manera más natural, para el día a día, o para salir a una fiesta poniéndote una sombra más viva. Yo opté por la primera opción y seguí los siguientes pasos:
Primer en el párpado.  Yo no uso primer como tal, pero sí me doy siempre un corrector para unificar el tono de la piel y después lo selló con polvos translúcidos. Este paso lo considero muy importante siempre que se maquillen los ojos de un modo u otro. Marca la diferencia bastante.
Labial líquido permanente. Para añadir color a los párpados evitad usar las sombras o cualquier producto en polvo. Ni siquiera para marcar la cuenca del ojo. Solamente funcionará en aquellas zonas en las que no vayáis a poner gloss encima, como el párpado inferior o el lacrimal. En su lugar, podéis usar labiales líquidos (siempre permanentes) y difuminar los bordes con una brochita o los dedos. Esto evitará que el gloss mueva el color a su antojo cada vez que parpadeemos y no terminemos pareciéndonos a la pobre Marge. 😅
Máscara de pestañas 'waterproof'/resistente al agua.  Aparte de que dura mucho más que una máscara normal, no llenarás el gloss de motitas negras.
Piel. La mayoría de ejemplos con este tipo de efecto optan por una piel luminosa y natural. Para ello es mejor usar BB/CC creams o bases de cobertura media, acompañados del colorete e iluminador que más os combine. Además, en esta técnica creo que se prescinde bastante de un contouring muy marcado.
Labios. En los labios sí que he visto todo tipo de variaciones, desde labios muy nude hasta labios muy vibrantes, con brillo o mates… De todo. A mí personalmente me gusta que toda la atención vaya a los ojos, por lo que opté por labios naturales aplicando un gloss.
🖤 Os dejo otros ejemplos que encontré para más inspiración:
🖤 Productos que yo usé / Products used: 
.   .   .   .   .   .   .   .   .   .   .   .   .   .   .   .   .   .   .   .   .
From time to time I like to experiment with makeup, as long as I see myself capable of getting the look done without end up looking like Marge when Homer invented his makeup shotgun. 🤦‍♀️
That said, one of the trends that I've always liked is the glossy eyes or wet effect on the eyelids. Of course, I am not a makeup professional at all, but I will just explain how I get this effect and what works for me. If someone knows a better technique, your comment is more than welcome! ❣
There are many ways to recreate this makeup. You can wear it in a natural way for everyday but it can also be wereable for any special occasion.  I opted for the first option and did the following steps:
Eye primer. I don't use primer as such, but I always apply a concealer to unify the skin and then I seal my eyelids with translucent powder. I consider this step very important when wearing makeup. It reeeeally makes a difference!
Permanent liquid lipstick. To add color to the eyelids, avoid using shadows or any powdered product. Not even to mark the eye socket. Instead, you can use liquid lipsticks (always permanent!) and blend the edges with a brush or your fingers. This will prevent the gloss from moving the color whenever we blink, making sure not to end up looking like the poor Marge. 😅
 Waterproof mascara. Regardless that it lasts much longer than a regular mascara, wearing a waterproof mascara will prevent you from finding your eyelids full of black little spots.
Skin. Most recreations of this type of effect opt ​​for a luminous and natural skin. For that, it is better to use BB / CC creams or medium coverage fondations. Of course, it will be nice to wear a cute blush of your liking and a highlighter to get a flattering glowy effect. In addition, in this technique I think that it is better not to use a sharp contouring.
Lips. On the lips I have seen all kinds of variations, from very nude lips to very vibrant ones, shiny, matte… I personally like the attention just in the eyes, so I opted for natural lips applying just a simple clear gloss.